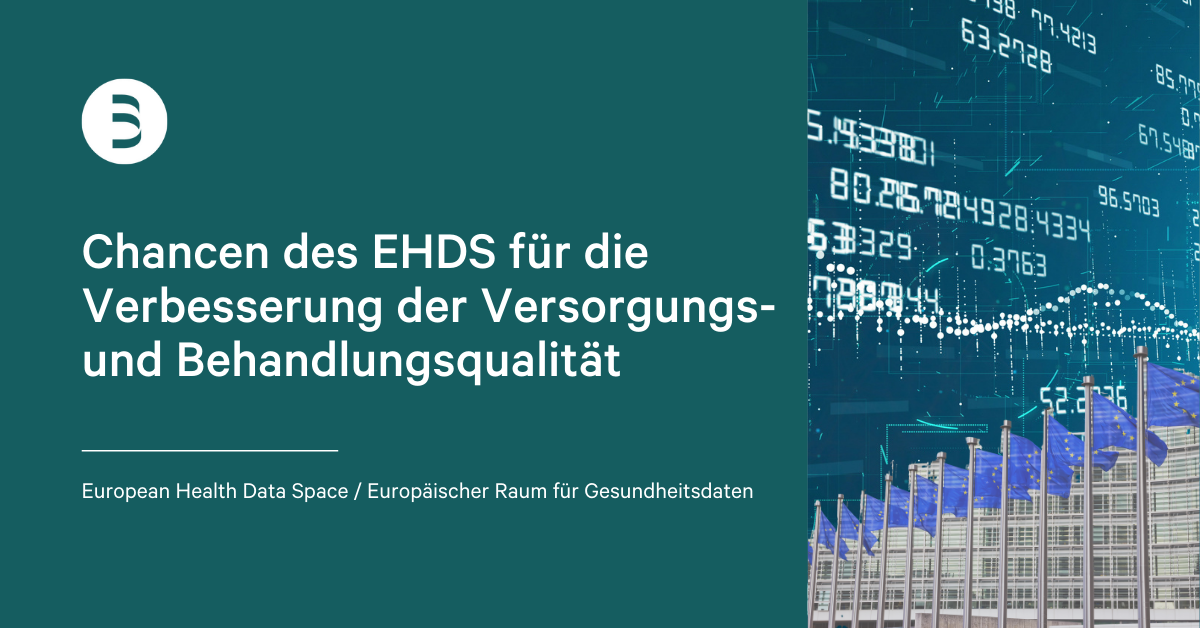 EU Commission President Ursula von der Leyen had already announced the establishment of a European Health Union in her State of the Union address in September 2020. This was done in the wake of the Corona pandemic in order to be able to respond better to cross-border health threats in the future. Key initiatives of the Health Union include coordinated crisis preparedness and response, the implementation of a medicines strategy to modernize patient-centered research, and the European plan to fight cancer.
A key component and critical to the implementation of these initiatives is the European Health Data Space (EHDS), which was launched by the European Commission in early May. It is one of twelve data spaces with which the Commission intends to facilitate data exchange in the EU. The data law presented at the end of February of this year forms the legal framework for the future internal data market.
The introduction and further development of the EHDS is aimed in particular at the following areas:
infrastructure and technology: with the help of harmonization, services are to be made possible throughout Europe in the future, e.g., the cashing of prescriptions in any pharmacy in other EU countries.
interoperability and data quality: the exchange and use of health data should be possible legally and transnationally with the help of EU-wide standards, without any loss of quality.
definition of governance: rules for efficient European cooperation between the administrations of the member states are to be developed.
The European Health Data Space should thus enable efficient exchange and direct access to different health data, e.g. electronic patient records, genomics data and data from patient registries. The data are intended for primary use in healthcare as well as for secondary use in health research and policy-making. Patients should be able to manage the primary use of their data themselves at any time via an interoperable format, i.e. they should be able to access it themselves, grant or deny access to third parties. This applies, for example, to prescriptions, laboratory results, discharge reports and vaccination records.
For secondary use of health data in anonymized or pseudonymized form, an application must first be submitted to the access points for health data. These access points will be established in each member state and all healthcare providers must be connected to it. In addition to the applicable data protection regulations, no further consent by patients is planned. In addition, no distinction is to be made between public institutes or private companies in the use of the data. Data retrieval will only be rejected if it is aimed at advertising or marketing purposes.
The infrastructure for cross-border exchange will be set up by the national contact points and will be called "HealthData@EU".
Benefits of the EU Health Data Space
Why the EU Health Data Space is so important for improving the quality of care and treatment is illustrated by everyday scenarios, such as the example of a European patient who needs to be treated in Germany after an emergency. The EHDS allows easy access to a patient's medical history, current medication schedule and older doctor's notes via a European patient file in order to avoid duplicate examinations, to have important information immediately at hand and to enable seamless further treatment in the patient's country of origin.  In addition to cost savings, the quality of treatment can be improved by avoiding problems with the introduction or change of medications, time delays, lack of knowledge or uncertainty.
Another advantage can be seen in the example of rare diseases, which affect only a few people at the national level. For this reason, an EU online platform for rare diseases has already been established to collect data on the diagnosis, treatment and care of patients with rare diseases and to counteract the fragmentation of patient data. The EHDS now helps not only patients with rare diseases, but all Europeans by allowing health-related data to be aggregated and used across borders. Patients can then benefit from developments in other countries, e.g. by using tumor boards, which exist in all major hospitals, to discuss specific cancer cases internationally.
Pending regulatory challenge: interoperability of systems, data protection and national implementation
Before the benefits of the EHDS can be realized, two major hurdles must be overcome. First, data interoperability must be ensured by collecting data according to the same schemas. Second, there must be an EU-wide code of conduct as the basis for a common data space, because unlike in other areas, the European General Data Protection Regulation (GDPR) has not yet ensured greater uniformity in the healthcare sector. While it provides a general framework for the use and collection of health data, it allows EU states to interpret it differently by enacting regulations at the national level, especially in research.
For this reason, it is necessary to create an EU-wide code of conduct for a European governance model. In other words, a code of conduct for the primary and secondary use of health data that strengthens the self-interest of citizens and informs them, as well as public and industrial researchers, which legal principles apply to them when handling health data.
More efficient sharing of valuable health data will greatly improve our health systems in the future if trust, ethics, and data safety are adequately ensured. By 2025, the foundations for the European Health Data Space should be in place.